Students have countless things to consider when entering college. Many start college without any research experience, and they are unsure whether they should pursue a research opportunity as an undergraduate student.
At Pepperdine, undergraduate research opportunities are accessible across all academic divisions. Working under the direction of one or more faculty members, many students end up finding undergraduate research to be one of the highlights of their college careers. Within the Humanities and Teacher Education Division, research is an important investment in the future of our world.
Pepperdine's commitment to providing exceptional education includes supporting meaningful undergraduate research programs through internal and external grants. One of these internal grants is the Undergraduate Research Initiative (AYURI), which supports research collaborations between faculty and students in all academic divisions. If their proposal is accepted, faculty members receive funding to work with the student on research while eligible students receive a scholarship. Students who receive AYURI funding present at the Seaver College Research and Scholarly Achievement Symposium.
Research topics
The possibilities for research topics in the humanities and in teacher education are almost endless. This semester, AYURI Grants funded 20 unique and diverse research projects. The Humanities and Teacher Education projects were led by Associate Teacher Education Professor Carrie Wall with student Nadine Borum and Associate Professor of History Sharyl Corrado with student Lauren Whittington.
Wall and Borum conducted research at a local grade 1 elementary school serving a large percentage of families experiencing poverty. Through questionnaires and Zoom interviews with teachers and various staff, they sought to learn more about the unique challenges students and families faced during the pandemic and how the school supported them using a trauma-informed approach.
When Corrado read the memoirs of a Russian Protestant missionary named Jenny de Mayer over 20 years ago, she dreamed of one day researching and writing Mayer's biography, but it was only recently that she was able to find the information she needed to start doing it.
"In June 2019, on a shelf in a community center in Switzerland, I found a treasure of more than 2,000 letters and postcards written by Mayer to family members," Corrado shares. "Lauren is a major in history and a minor in religion, so it was natural to ask her to work with me on the project. Last summer, with another history major, Rachel Stenz, we focused on deciphering the handwriting and putting the letters into context, so we could publish them online.
Research roles
As each research topic is unique, so is each professor-student research relationship. Partnerships are formed informally; a student may reach out when they see a professor researching a topic they are passionate about, or a faculty member may identify students in their classes who they think would excel or bring something new to a project .
The Wall and Borum collaboration began when Borum took the Wall course online. Wall knew she wanted a student to partner with on this project, and she knew Borum had a heart for this path of study. After seeing how professional and responsible Borum was in class, she approached her to join in the research.
As relationships differ, so do roles. Sometimes the students will lead the research with the faculty to assist them, while other times, as in the case of Corrado and Whittington, the students will assist the faculty with the ongoing research. Individual student tasks may also differ.
"My role in the research is to transcribe Jenny's letters, research any content that raises questions, take notes about them and record them," Whittington shares.
Borum's role is similar to Whittington's. She reads data collected from teachers at the school under study, sifts through questionnaire responses, cleans up video interview transcripts for analysis and codes the data, looking for themes and patterns along the way.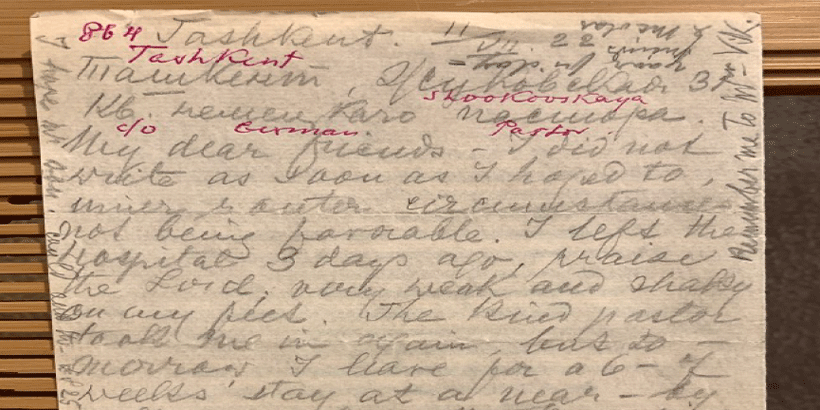 Real world application
Students and faculty tout the benefits of undergraduate research experiences.
"It makes what we theoretically study in the classroom real," Corrado shares. "For example, these aren't handpicked documents that a professor assigned to make a point. They are simply letters from a woman to her family about her life, which was affected by the Russian Revolution, World War I, the Spanish Flu, the Great Depression, and dispensationalism.
Borum adds, "I was reluctant to do research because I don't see myself as a researcher, but as the process goes, I realized that research doesn't have to be on obscure and boring topics. It is meaningful and can add an extra dimension to things you are already passionate about.
In addition to the research itself, students have the opportunity to gain professional presentation experience through Seaver College's annual Research and Academic Achievement Symposium, where students share their findings. One of Jenny de Mayer's distant relatives found Whittington's presentation online and emailed her thanking her for her work. Some faculty-student research teams also submit their results to other professional conferences, giving students additional hands-on experience in the process of submitting and presenting research.
Generally speaking, undergraduate research experiences can complement courses and internships to greatly enrich a student's academic career and give them the tools to be successful long after graduation from college.
"I think it's so important to have research experience as an undergraduate student," Whittington shares. "The way my research overlapped with what I learned in my major and minor brought me so much joy and really linked my overall experience as a student. "